| | |
| --- | --- |
| Maid Name: | Silpa Limbu |
| Nationality: | Indian maid |
| Experience: | New maid |
| | Darjeeling maid |
| Language: | English: (Little) |
| Place Of Birth: | |
| Height: | |
| Weight: | |
| Religion: | |
| Marital Status: | |
| Number of Children: | |
| Siblings | |
| Expected Salary | |
| Education: | |
| Off-days: | |
| Language: | |
Shilpa Limbu is from Darjeeling she is single and she is Christian, She can speaks little English and good Hindi
She is new to Singapore and will need a learning curve for 3 months to pick up. She is able to cook North Indian and Nepalese food and is a fast learner
She can do all general housekeeping and take care of young children and willing to take care of elderly. She is able to work in vegetarian and Non vegetarian family.
She has NO medical conditions stated in the officially MOM 4
pages bio data.
Contacts:
Ricky: 9773-7409
Eva: 8286-9211
whatsapp : 8286-9210
Office: 6733-0667
Crises Management: 9773-7409 - Pls sms or whatsapp details so we can digest and find a solution. Most of the time we will not have a immediately solution when a employer call up suddenly, we analyse the problem and find short term and permanent solution.
Serving you in the best way and with a true heart ww.target.com.sg (Rinzin Agency Pte Ltd)
We are at:
865 Mountbatten Rd, Katong Shopping Centre #01-75 Singapore 437844
Non disclaimer:
We have to the best of our ability verify that the above information given are true nevertheless we cannot guaranteed it as information are given by the candidates and their agents.
Maid Agency: Rinzin Agency Pte Ltd
(License No.: 13C6660)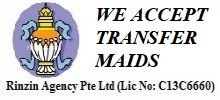 Address:
865 Mountbatten Rd,,
#01-75 Katong Shopping Centre,
Singapore 437844
Tel:
82869210/11
Email:
enquiries.j1@gmail.com


Contact Person:
Ricky Ho & Eva
Handphone:
82869210 / 82869211 / 67330667
Website:
http://www.target.com.sg
Office Hour:
Mon to Sat: 11:00am to 7:00pm
Other hours : by Mobile: If you are unable to reach us need to contact us urgently, pls sms
Ricky Ho - +65-97737409 +65-82869210
Eva - +65-82869211
Office - +65-67330667 / 67330673

Last updated on 12-01-2022.
Maid Agency:
Rinzin Agency Pte Ltd
Contact Person:
Ricky Ho & Eva
Phone:
82869210 / 82869211 / 67330667
Contact Maid Agency Regarding Silpa Limbu