| | |
| --- | --- |
| Maid Name: | Kilamwangle Nriame |
| Nationality: | Indian maid |
| Experience: | Ex-Singapore maid |
| Language: | English: (Good) |
| Place Of Birth: | |
| Height: | |
| Weight: | |
| Religion: | |
| Marital Status: | |
| Number of Children: | |
| Siblings | |
| Expected Salary | |
| Education: | |
| Off-days: | |
| Language: | |
Kilam is from NC Hill, Assam and she is of the Newme people of Naga. She is Christian and married with a 5 yrs old daughter, She speaks good English and Hindi
Kilam cm Singapore in 2012 and has worked a total of about 4 yr and is back in India in 2017 to get married amd she is ready to come back again
She worked well with all her employers and good with children. She can do all around household work and cooks North Indian food and do marketing and shopping.
Her salary is disclosed privately thru email and whatsapp to employer only. Any off in-lieu additional allowance per MOM calculation: basic salary divided by 26 days
Employment history is available upon request and before signing contract we will give FIN number for employer to double check at MOM website
She has NO medical conditions stated in the officially MOM 4 pages bio data.
Contacts:
Ricky: 9773-7409 whatsapp
Eva: 8286-9211 whatsapp
Crises Management: 97737409 - Pls sms or whatsapp details so we can digest and find a solution. Most of the time we will not have a immediately solution when a employer call up suddenly, we analyse the problem and find short term and permanent solution.
Serving you in the best way and with a true heart ww.rinzinmaid.com (Rinzin Agency Pte Ltd)
We are at: By appointment only - We meet you at your location
6 YISHUN INDUSTRIAL STREET 1, #04-03 NORTH VIEW BIZHUB S(768090)
Non disclaimer:
We have to the best of our ability verify that the above information given are true nevertheless we cannot guaranteed it as information are given by the candidates and their agents
Maid Agency: Rinzin Agency Pte Ltd
(License No.: 13C6660)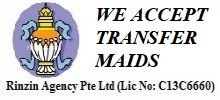 Address:
6 YISHUN INDUSTRIAL STREET 1,
#04-03 NORTH VIEW BIZHUB,
Singapore 768090
Tel:
82869210/11
Email:
enquiries.j1@gmail.com


Contact Person:
Ricky Ho & Eva
Handphone:
82869210 / 82869211 / 67330667
Website:
http://www.target.com.sg
Office Hour:
Mon to Sat: 11:00am to 7:00pm
Other hours : by Mobile: If you are unable to reach us need to contact us urgently, pls sms
Ricky Ho - +65-97737409 +65-82869210
Eva - +65-82869211
Office - +65-67330667 / 67330673

Last updated on 08-08-2022.
Maid Agency:
Rinzin Agency Pte Ltd
Contact Person:
Ricky Ho & Eva
Phone:
82869210 / 82869211 / 67330667
Contact Maid Agency Regarding Kilamwangle Nriame